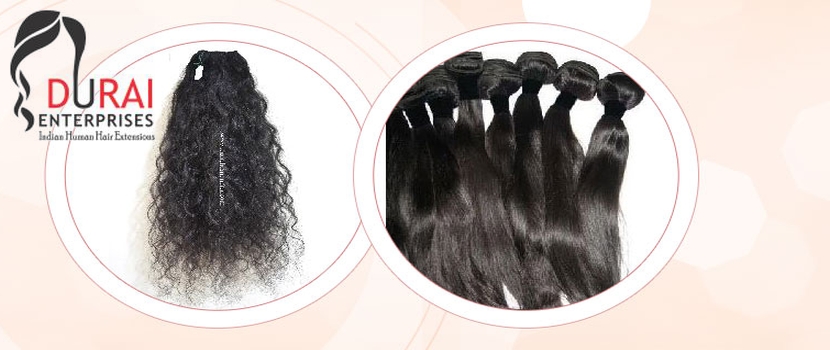 Hair extensions are quite famous these days, especially the unprocessed human hair extensions. These are strands that can be bonded easily to your hair to make it longer or give it more volume. Having long locks that can effortlessly be styled and treated is a dream of every lady. Now at the time of advancement, this dream can be fulfilled easily. If you are one of those women who want to fulfil their fantasy of having long and beautiful hair, you can do so without really having to wait for it to grow longer.


There are numerous salons and Raw Unprocessed Hair Extensions Exporter in Tamil Nadu that deliver hair extensions that are made of 100% human Indian hair. Another simplest and affordable option that you can try is artificial hair extensions. However, if you want to the highest quality, it is best to go for the natural ones, raw unprocessed hair extensions. The reason is you can treat, tint, and colour them as if they were your natural hair.


Why Raw Unprocessed Hair Extensions are the best?
Raw Unprocessed Human Hair is the hair that has been manufactured by Unprocessed Human Hair Extensions Manufacturer in Chennai and stitched onto a weft is entitled to experience minimum shedding. Although the cuticle layers have not been chemically altered still intense care must be taken to keep roots and tips from flowing in opposite directions.


Unprocessed human hair is high in quality, gives a natural feel and looks, retains dye colours and waves better than treated hair. Furthermore, these last longer through normal wear and tear as the cuticles act as a protective layer for the rest of the fibre. Top-quality virgin Remy hair extensions are made from unprocessed human hair sourced directly from the temples in Tamil Nadu.
Benefits of Unprocessed Human Hair Extensions Weft
Easy to handle and style
Lightweight
Suitable for any occasion
Custom sizes
Naturally available straight, wave, curly
Can be treated like natural hair like colour, bleach
Human Hair extensions manufacturers benefit you with the ability to change your hairdo effortlessly in merely minutes. It is challenging and takes a long time to grow your natural hair long. Sometimes to manage long hair is also difficult. But if you get yourself some extensions, you can change your look absolutely in just a matter of a few minutes. It is the finest option to get the natural unprocessed human hair extensions as you will not face problems brushing, washing, and drying them. You can do everything with your human hair extensions like what you could do on your normal hair.
Features supplied by reputed Human Hair Extensions Manufacturers:
Each Bundle weighs 100 grams approximately
They use only Indian Remy Natural Hair
Natural Color & Natural Texture is available
straight texture natural can slightly wave after washed & air-dried
Complete Raw and unprocessed Hair just shampoo washed and conditioned.
Available in black and brown and can be bleached or coloured as well.
Free from lice, nits and grey hairs
Sophisticated packaging
Although the human hair extensions bought from reputed Unprocessed Human Hair Extensions Manufacturer in Chennai are real hair, it is not root-based and does not receive the same nutrients and oils as your natural hair gets. The benefit of having human hair extensions is they match your natural hair and can respond to heat tools, elements, and human hair products including hair colour the same as human hair.


Here are some tips to maintain the shine and bounce of human hair extensions:
Shampoo and condition like your own hair.
Combing the hair necessarily.
Detangling the extensions with fingers.
Avoid regular dyeing hair for the long-lasting feature.
• Never carry wefts at sleep to avoid getting unprocessed hair extensions damaged.